Writing
Writing Composition, Spelling, Vocabulary, Grammar & Punctuation
As outlined above, writing composition is intrinsically linked to pupils' reading and experience. Giving pupils a reason to write, and where possible, someone to write for, can support effective writing and provide opportunities to teach pupils how to adapt their writing for different audiences and purposes. At Sacred Heart, texts are thoughtfully selected, and mapped out across the year, ensuring that a range of traditional and modern examples are chosen, representing the diverse local context of our school, and taking into account both current and historical social and cultural influences.
We introduce Pie Corbett's story telling actions and story mapping techniques in the early years and KS1 to support the children's ability to retell a story orally and through action, and to support the development of young children's writing composition skills.

Writing Composition in KS1 and KS2 at Sacred Heart is made up of the following components:
Planning
Pre-writing activities and drafting
Revising and editing
Publishing
Pupils are encouraged to use a range of strategies to support each component of the writing process. Teachers model how, when and why pupils should use each strategy and support pupils to practise and apply improvements, via regular feedback. When appropriate, and according to need, teachers gradually reduce support as pupils increasingly use writing composition strategies independently.
Lesson sequences are comprised of a carefully considered series of word/vocabulary, sentence/grammar and text related activities, with the aim of schema building to cement pupils' knowledge and skills and to improve their written fluency.
Throughout the school we use a system for teaching sentence structures developed by the educational specialist Alan Peat. Children are taught how to use Alan Peat's, 'Exciting Sentences', which enable pupils to use a variety of sentence types when composing a piece of writing, ensuring they 'hook' the reader's curiosity and interest.
The sentence types act as sentence stems, again helping to build pupils' schema.  By familiarising themselves with the sentence types over time, pupils first become fluent with set words or phrases, then the structure of the clauses and sentences themselves and finally with an expanding range of vocabulary and grammar. The sentence types develop pupils' creativity, reinforce explicit knowledge of grammar, punctuation and vocabulary and provide repeated opportunities to practice sentence construction and sentence combining.
Some sentence types are more appropriate to non-fiction, and others, to fiction writing. Through whole class reading and writing (including modelled, shared and peer writing), pupils are routinely exposed to a variety of sentence types, linked to different genres, as they journey through the school.  Through regular modelling and practice, pupils are then able to select and apply appropriate sentences to their independent writing.
As vocabulary increases, pupils will learn to understand the relationships between words, how to understand nuances in meaning, and how to develop their understanding of, and ability to use, figurative language. Pupils will learn how to work out and clarify the meanings of unknown words and words with more than one meaning. They will learn the correct grammatical terms in English and that these terms are integrated within teaching.
Pupils progressively learn how to use punctuation effectively within their own writing, using Alan Peat's punctuation poster, which builds on the pupils' prior knowledge and skills as they move through each year group.
Spelling, punctuation and grammar skills are taught discretely within whole class English lessons, and further embedded during modelled, shared and guided writing lessons.
Pupils are set weekly spelling practice homework from Reception upwards.
We use Nelson Thorne's handwriting programme across the school, which is designed to help all children develop a confident, legible and personal handwriting style and meet higher curriculum expectations. The programme includes resources for pattern practice and motor skills, fun activities to bring handwriting to life and an online subscription to help implement the programme in class.

Literacy – Reading, Writing and Comprehension
EYFS Educational Programme – Literacy
It is crucial for children to develop a life-long love of reading. Reading consists of two dimensions: language comprehension and word reading. Language comprehension (necessary for both reading and writing) starts from birth. It only develops when adults talk with children about the world around them and the books (stories and non- fiction) they read with them, and enjoy rhymes, poems and songs together. Skilled word reading, taught later, involves both the speedy working out of the pronunciation of unfamiliar printed words (decoding) and the speedy recognition of familiar printed words. Writing involves transcription (spelling and handwriting) and composition (articulating ideas and structuring them in speech, before writing.)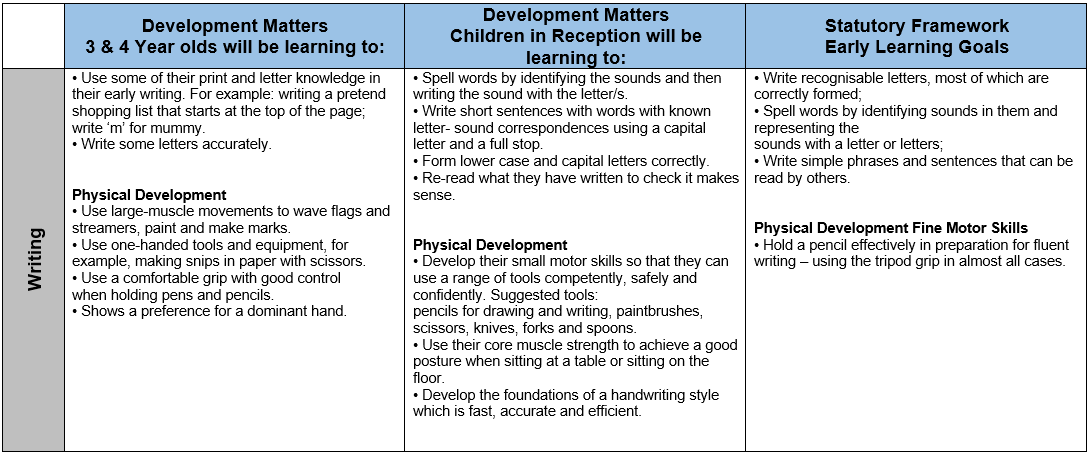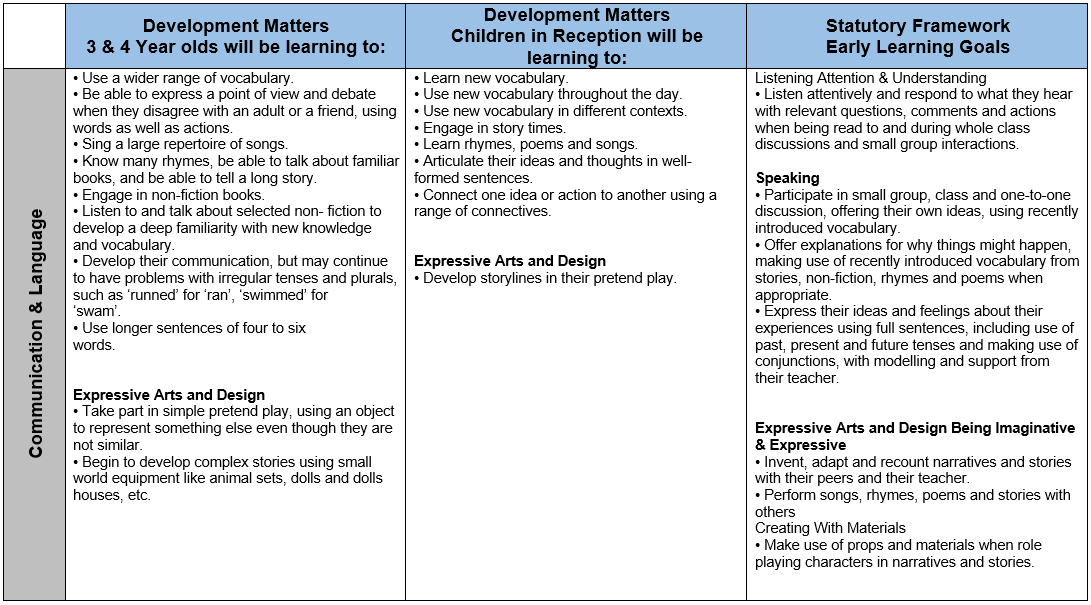 For EYFS Reading Progression please click here.
For English Progressions Year 1 – Year 6 please click on the below links.
For Wandsworth Plans – Reading, Writing GPS please click on the below links.
Y1 Wandsworth LA Primary English Planning Overview
Y2 Wandsworth LA Primary English Planning Overview
Y3 Wandsworth LA Primary English Planning Overview
Y4 Wandsworth LA Primary English Planning Overview
Y5 Wandsworth LA Primary English Planning Overview
Y6 Wandsworth LA Primary Planning English Overview
For Writing and Grammar Progression please click here.
For Whole School Punctuation Progression please click here.
For The Punctuation Poster please click here.
For Website Driver Texts and Writing Assessment Map please click here.