After School Clubs at Sacred Heart Primary School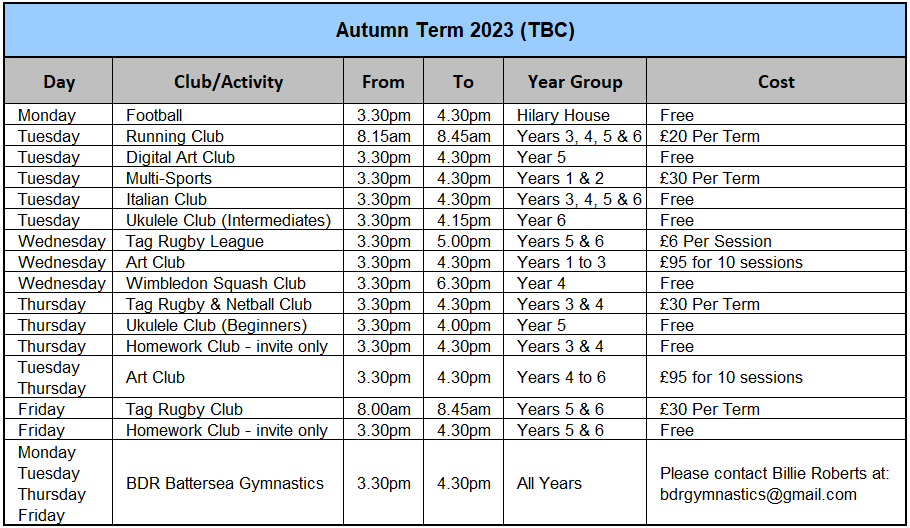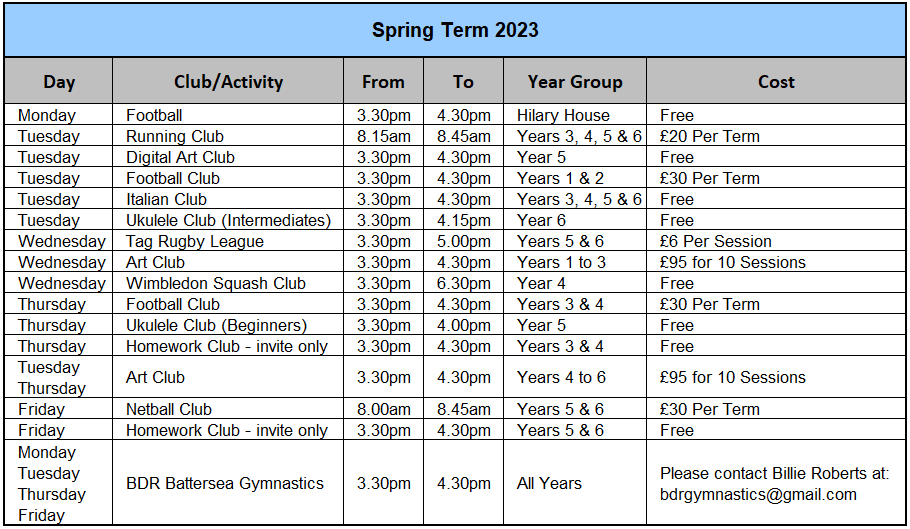 In addition to the Sports Clubs above, we also hold intra-School Leagues for Netball, Tag Rugby and Football, linking them to National and International events, such as The African Cup of Nations, The World Cup, Commonwealth Games etc.
For more information on BDR Gymnastics and Drama clubs please view the contact details below and for all other clubs please contact the school office on 0207 223 5611
External Club's Contact Details:
BDR Gymnastics
Billie Roberts
Email: [email protected]
For more information on how your child can join please visit: www.bdrgymnastics.co.uk/
Saturday Drama
Don Rae Academy of Movement & Arts
For more information on how your child can join please visit: www.donraeacademy.com
Five Amazing things that children get out of being a member of a Sports Club
1. Healthy Bodies, Healthy Minds
Through the development of healthy physical activity habits, children are not only supporting healthy bodies, but are also likely to show improved performance in school. Another terrific advantage of sports clubs – which generally involves long term commitment – is that if young people are physically active from an early age, they are more likely to continue to be so in early adulthood.
2. Social Skills
Structured activities, such as organised sports, are linked to lower levels of antisocial behaviour in children.  Indeed, sport clubs can help them develop important social skills such as good citizenship, positive peer relations and respect for authority through learning to interact not only with other children their age, but also with older individuals such as their coaches and sports officials.
3. Self-esteem
Studies have shown that those who engage in sport and physical activity are more confident – this is particularly important in child development. Sport clubs allow children to build self-esteem as they learn to trust in their own abilities, receive encouragement and praise from coaches and parents, and learn to accept constructive criticism.
4. Skill Building
Sports clubs provide an opportunity for children to learn skills that will help them in school, as well as in their future careers and personal relationships. Through engagement in sport, they learn leadership, teamwork, problem-solving, responsibility, self-discipline, and a sense of initiative.
5. Tolerance
Sports clubs help children – especially those who are disadvantaged – build lasting friendships and feel part of a wider community. By bringing together individuals from different races, religions, genders and economic backgrounds, sport can promote mutual respect, tolerance and understanding.